The BURU Pink Label Has Officially Arrived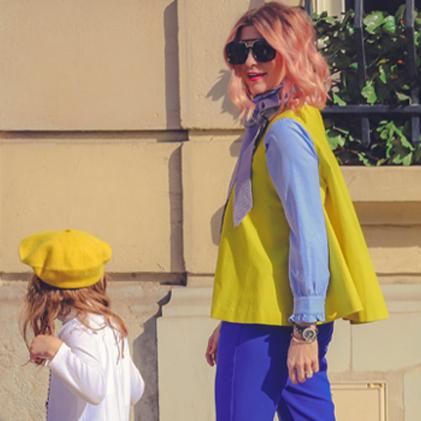 Over the last four years, BURU has evolved in ways we never dreamed.
From the opportunity to work with numerous ready-to-wear collections, often run by inspiring, talented mothers, to creating the BURU White Label, bringing elevated "mom style" at attainable prices to mamas everywhere—it has been quite the journey.
I have personally learned so much. I've learned what moms need, I've learned what they want, and I've learned that beyond the bump, very few brands (if any) are speaking specifically to them.  It's become my mission.
I want BURU to give mamas what they need AND what they want. I want to empower this strong, influential and overwhelming beautiful group of humans. Yes, we are mothers, we are busy, we are overworked and we are tired—but we are also still women—stunning women in fact, and we deserve to celebrate that.
Everyday, we receive at least one email, DM or note from a mother thanking us for helping her feel like herself again. 99 percent of the time when I look at what she ordered, it's not a BURU Basic, it's something special—an embellished top (with easy access) that pairs back to denim, a ball skirt (that's washable) to be worn with a simple tee or a day to night dress (that camouflages left over baby weight).
These letters steered me to the next phase of BURU.
I am so thrilled (and to be honest, full of butterflies) to introduce you to The BURU Pink Label—special occasion pieces for the every day with motherhood in mind.

Inspired by mother muses in my own life, these LIMITED EDITION pieces are hand-made in Los Angeles from sustainable textiles in statement making silhouettes.
For the premier BPL collection, I looked to my grandmother, Jean Evelyn Blankenship for inspiration. Each design is a nod to the evolution of her life—from stay at home mom to mod working mother, traveling the country to aid in disaster relief with The Red Cross.
From fitted waists and longer hemlines to modern trapeze silhouettes with geometric details, touches of lamé and just enough vegan leather to add edge, this collection is meant to add a spark to your life—from carpool to cocktails, play dates to date night.
Though we do still eat lunch, we are often not "Ladies Who Lunch"—we are women who do it ALL. And so must our clothes. The BURU Pink Label is feminine and versatile. It can be styled to suit your taste—from ladylike to preppy, minimalist to fanciful. It's really up to you and how you choose to style it.
Though the price points of The Pink Label are a tier up from The White Label, all styles remain $298 or under and many fall below $198. By sourcing pre-existing, often abandoned designer textiles, we are able to create luxe looks for less.
And there's more, as an outspoken advocate of mental illness and sufferer of bi-polar disorder myself, we are committing $15 of each BPL garment sold to the charity Bring Change to Mind. As business owners, we believe that giving back is one of our most important responsibilities.
We are so excited to share that the first batch of BURU Pink Label is has officially arrived!
Please keep in mind that some styles are quite limited based on the availability of our textiles. The beauty of using pre-existing materials is that we are not adding more waste to the world, but the down side is that we will RUN OUT!
I can't wait to see which piece is your favorite and how you make it your own!