Q&A with Angela Barkan of Fork & Bib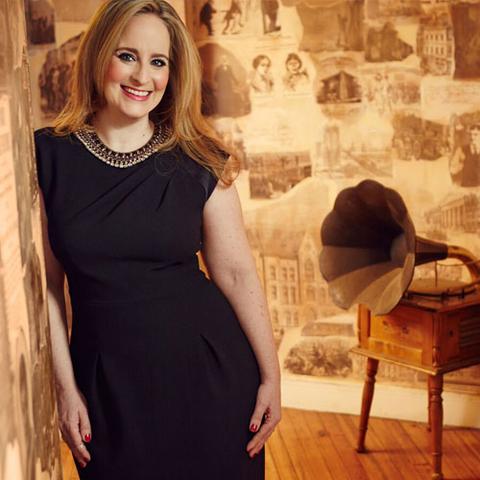 Angela Barkan lives in Gramercy with her husband Ryan, daughter Sunny and their King Charles Taco. She is the Vice President of Media and Artist Development at Sony Music Masterworks where she works with a wide range of artists and genres. Angela recently launched Fork+Bib - a restaurant review site for parents and their kids.
We are so excited to welcome her to our BURU Tastemaker Tribe! 
Read our exclusive Q&A with this impressive mama below.

I love being able to see and enjoy things in a new light. For example, Sunny is obsessed with looking at the moon every night. Now every time I see it I think of her. She also loves to smell every single bunch of flowers at every single bodega when we go for a walk. These are things I never used to notice!
Patience! I'm always on the go at work and Sunny has taught me that not everything has to happen right away. I think this has actually helped me professionally as well.
I breastfed while I was on maternity leave. I liked wearing wrap tops or layered thin tank tops with long cardigan sweaters over.
My work look hasn't changed but my weekend #momstyle definitely has. Once I had Sunny I realized that a lot of my t-shirts and weekend tops had embellishments around the neck. I put those away for a bit because I was nervous they'd scratch Sunny's face when I was holding or….or she'd eat a rhinestone!
I'm most comfortable in dresses and love things with a bit of a rock edge. Dresses that work with converse but also with a heel are my vibe. 
By Malene Birger - Drunina Dress 
Erin Kleinberg - Constance Maxi Dress - Black
 I'm so glad jumpsuits are back! I almost always travel with a jumpsuit because you can get so many looks out of them with accessories, blazers etc.
By Malene Birger - Cointa Jumpsuit
 Hunter Bell - Justine Jumpsuit - Zipper Front in Black
I love conversation pieces. It always breaks the ice.
Rachel Comey - Lilt Coat with Hands 
Markus Lupfer - Flash Camera Sequin Cotton Sweater
Goldsign - High Rise Skinny Black Denim
By Malene Birger - Minona Camera Scarf
Lucy Paris - Lea Mesh Pullover - Black
Shop All Of Angela's BURU Tastemaker Sale > 
The first restaurant I took Sunny to was Almond, with my mom group. We walked in with 9 strollers, diaper bags and all! We all gained confidence together and I realized that going out to a good restaurant, baby in tow, was possible. I then made it my mission to find every baby-friendly restaurant in NYC and launched forkandbib.com!
It's all about the backup plan. While I encourage Sunny to try new foods I always bring a few easy snacks that I know she will eat like GoGo Squeez applesauce and goldfish. I also bring a small activity like a couple crayons and small notebook. If all else fails, I have a few My Little Pony episodes banked on my iPhone.
It's all the things I never used to think about pre-Sunny!
First we rate the restaurant on accessibility: Are there stairs at the entrance? Can the doorway fit a double-stroller? Is there stroller parking? Is there room around the table for a stroller? Do they have highchairs and booster seats? 
Then we look at the menu – while most of the restaurants Sunny I go to don't have a kids menu we look for places that are flexible and welcoming. Fork+Bib friendly restaurants will bring side/half portions for Sunny, smaller cups with a straw etc. 
Of course we also look at the bathroom. Many have a changing facility in the woman's bathroom but most don't have one in the men's bathroom which makes it hard for dads who are dining solo with their kids. This is a major oversight for restaurants that want to attract families.
Don't give up! A food that Sunny hated at 1 year, she ended up loving a few months later. It's worth giving foods a few tries before wiping them off the list. With Sunny I gave her a lot of different foods early on. I think it worked because she has a pretty wide palate. Of course, the staples like Mac & Cheese and Chicken Fingers are in there…..but so is Shumai and Terriyaki Chicken.
We live in Gramercy. It's a great family friendly neighborhood with lots of parks and good restaurants. One of Sunny's favorite activities is going to get coffee for her daddy at Pushcart on 21st and 2nd. They have a little play area for kids and arguably the BEST chocolate chip cookies in NYC. One of our mainstay brunch places is Petite Abeille on 20th and 2nd. The mussels are scrumptious and Sunny loves the crayons that they bring to the table. We have a lovely park at called Petersfield at 20th and 2nd that we frequent at least 4-5 times each weekend.
Although it's hectic I love the time that Sunny I spend before I go to work. On school days we leave the house by 8:30am. Lately Sunny hasn't been wanting to sit in her stroller because she now has a new dolly stroller that she pushes. Because of that I've been building in a little more time for the walk to school! After drop-off I'll zip to work in midtown. I start my day by flipping through the newspaper and reading a few blogs before diving into email and meetings. If I have an artist in town then I'm normally running to various TV studios for press appearances. I often have to go out at night to a concert or event but I always try to come home first to make it for Sunny's bedtime. One night a week I go to jewelry class at the 92nd Street Y. I've been doing it for about 4 years. During those 2.5 hours I put my cell phone away and get into a purely creative zone. My husband has been very supportive of it – it's my version of yoga! Plus Sunny loves jewelry so it will definitely benefit her one-day.
mother:involved
wife:supportive
friend:loyal
business owner:excited
blogger: newbie
Bedtime Story: Goodnight Moon
Lullaby: Go To Sleep Little (Insert body part here) – my mom made it up and I've continued the tradition!
Vacation Spot: Boca
Restaurant: With Sunny – Posto or Petite Abeille. Without Sunny – La Folia
Children's Brands: Roots (I stock up when I go back to Toronto), Jacadi, Gymboree
That it takes getting used to. It's amazing but it takes time to get into a groove.
Instead of thinking outside the box, get rid of the box. – Deepak Chopra