Q&A with Stacy Igel, Founder of Boy Meets Girl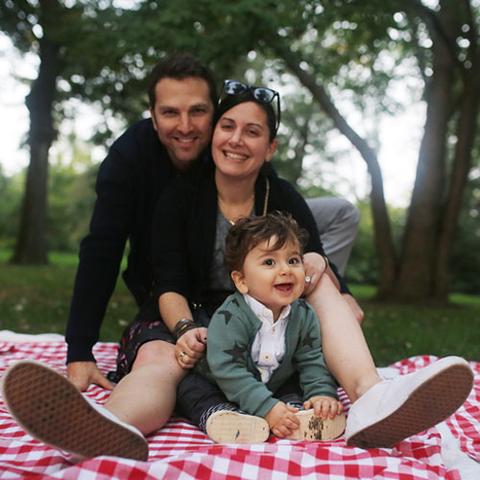 Stacy Igel began her career at the ripe old age of 4, styling her pre-K classmates and staging fashion shows in her nursery school's cafeteria. Igel later honed her skills working with iconic brands such as Izod, Elie Tahari and Zandra Rhodes before founding her own brand, Boy Meets Girl®. Boy Meets Girl® is a hip yet casually classic young contemporary brand offering a full range of graphics tops and bottoms, as well as jackets, sweaters and accessories. The brand, currently sold at Nordstrom and Colette in Paris, has been featured in InStyle, Seventeen, WWD, and The New York Times, among other media outlets, and has been worn by high-profile fashionistas such as Brittany Snow, Rosario Dawson, Nina Dobrev and Kendall Jenner. Visit www.BoyMeetsGirlUSA.com for stockists.
Igel has received numerous awards and honors, and is a frequent panelist on topics including social media, branding and entrepreneurship. Igel holds board and/or committee chair positions at FDNY,

BullyBust.org

, and the Young Survival Coalition. Currently, Igel is developing a multimedia fashion series for a major network. You can follow Stacy and her curated lifestyle blog, Behind The Seams™ with Stacy Igel at http://www.stacyigel.com.
 I love everything. The morning smiles and hugs of course make everything perfect.
I am more focused. When I found out I was pregnant, I spent some time thinking about my goals, my efficiency and resetting my lifestyle. I realized that I can work a whole lot smarter than I did in the past. I listen to my body and know that there is a right time to stop working for the day, or to leave a function for the night, and just go home, spend some quality time with my family and baby boy, give them my undivided attention, be present, and fully recharge so I can attack the next day. Basically, I try really hard not to be the last one to leave the party anymore—which my friends and family know is quite hard for me!
I did breast feed. I never thought I would do it and it just worked for which I am very grateful. Dyaln Reid was born three weeks early so he was in the NICU and the nurses said your breast milk will help him speed up recovery—a light shined down on me, and I said here I go! I was the first in my immediate family to ever breast feed. My mom and sister took me to the Upper Breast Side in NYC right after Dylan Reid was born because I was supposed to go there the weekend Dylan arrived so I was braless leaving the hospital. I got those special bras that open up at the top so I bought a lot of those and wore my normal clothes as it was easy to get to my breasts. Thankfully :)
My style pregnant and post baby is my style so it really has stayed the same I like to think its eclectic, edgy, and demure all rolled into one neat little package.
Pocket midi full skirt midnight floral   I love skirts that I can rock with a my own Boy Meets Girl tees and/or a snazzy turtleneck sweater . Also skirts or dresses with pockets are my jam.
Cable scarf white-navy   I wear scarfs 24/7 I love this one for the winter and I think it pairs great back to really anything
Liana pale heather grey coat   I always love a statement coat. My husband likes me in fitted clothes but I love the way this coat drapes and makes you feel
Auric jumpsuit   I have always been a romper girl and again the ease with pockets and functionality. My days are so busy so I want to get dressed each day with ease. Love this mix media jumper with denim and silk.
Fair isle pullover in cream   I love a great sweater in the fall. I also love Mara' designs.
Long notched blazer   Every girl should rock a blazer. I wear blazers a lot with skinny jeans and sneakers or half booties and or pumps. I love a solid blazer with graphic rock and roll tees and or boy meets girl tees paired under them. I never like to make my blazer look look to prim and proper rather I like to edge it up.
Aviator sunglass case   I am a sucker for cases and holders.
Evan belt bag champagne   It might be 80's but I really have been trying to bring this back. Especially for traveling which I am off to Paris on Wednesday. We shall see.
Champagne pop candle   Candles are soothing and I love to use them when I take a bath or just because.
Easy sweat pant ice wash   Comfort is important while also looking chic and not sloppy. If I am not wearing my bmg leggings or sweats I love these Bella Dahl pants. Great for running around and pairing with a cool shoe.
I wanted to be a designer for as long as I can remember. Both of my parents were entrepreneurs with their own businesses. I inherited that "go get 'em spirit" from them for sure. As a child, I remember dressing my pre-K classmates and staging fashion shows from my school cafeteria. During and following college, I was still sewing and designing for my friends who were like walking billboards. From that point, I started taking orders from friends of friends. I sewed, promoted, sold and shipped the line from my bed essentially. Actually, my first ever press clipping was for Lucky's "One to Watch" and was shot in my bedroom because I didn't have a showroom at that time (that piece was covered by Gina Kelly now Fashion Director of Seventeen). I starting doing small events and tradeshows and Bergdorf Goodman picked me up. Bergdorf allowed me to "graduate" to a studio space in a condemned building in Union City New Jersey (no running water, heat, etc.). I took a small bus from the Port Authority everyday. It's been quite a journey. Some days I stare at my new incredible office space recently designed by Diana Mui and marvel at how I've grown. The design philosophy hasn't changed at all, however. I still love to create, it's just that now I can do so in the context of a larger and more complex collection with many more moving pieces and personnel involved.
I'm going to give you my holy trinity of influences. First, Coco Chanel, who famously said "Fashion is not something that exists in dresses only. Fashion is in the sky, in the street, fashion has to do with ideas, the way we live, what is happening." I agree. I think that's why I am so happy working as hard as I do. Second, Kate Moss. Of course she's a beautiful and confident woman, but what I love about her is the way she effortlessly transitions from eclectic vintage to high fashion. She never looks like she's trying to put an outfit together – everything looks like it just naturally belongs on her body. Third, Patti Smith. She's stayed true to her edgy stylishness since the 70s. She's unflappable. 
I live in Manhattan with my husband and 13-month old son. When Dylan was born I discovered Strawberry Fields in Central Park. I had been living in NYC on the UWS since '99 and never sat there to enjoy the artists who surround the circle in tribute to John Lennon. I take Dylan there all the time and we listen to the talented artists that do not stop playing guitar all day. It's truly amazing. My husband is from NYC and he too had never really enjoyed what was right in front of us. We had Dylan's 1st Birthday party right in the area by the circle and one of the artists came and performed for us.
To me Motherly means to do your best.
wife: partner in crime and lover
designer: innovator /creator (2 words)
business owner: hardworker
Bedtime Story: Good Night Moon
Lullaby: Forever Young by BoB Dylan we sing every night before he goes to bed

Vacation Spot: Chicago (my dad lives there), Palm Beach (my mom lives there), Hamptons (my inlaws have a house there), and BEACH BEACH BEACH anywhere.

Restaurant: Cafe Luxembourg (local spot by us) and the Soho House NYC (meetings and dates and their brunch)
Children's Brands: nununu
I actually love living each day in the moment as a mom. I know that sounds silly but I found that my motherly traits are innate and the challenge I like to take on and succeed in a winning result as best as I can. That must be the entrepreneur in me ;) However, I am very grateful for my friends who answer my texts when I am like "is that rash supposed to be there" and they are the best and respond to me right away with their mom answers so I am sure I would have loved to know about colds and rashes before but again everyday is new and different and I believe in learning on the go. It is hard to be so proactive when you are dealing with different days in a babies/child life. In work you can be proactive but with a child i think it is about being reactive a lot of the time. Open for debate on this :)
Think. Say. Do™ and "BELIEVE"