Q&A with Designer Mara Hoffman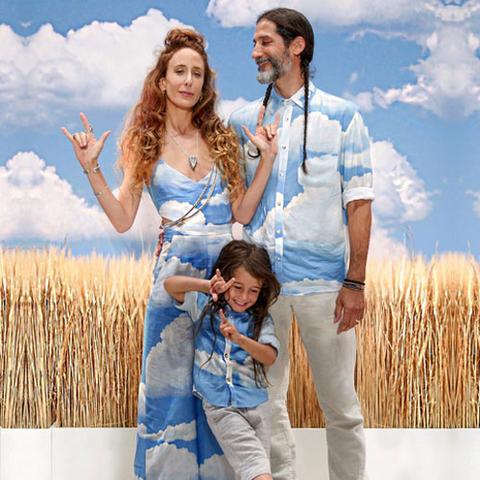 If you look up creator of the cool mom club, I believe you may find a picture of Mara Hoffman.  With her laid back, yet dynamic style and her attitude towards fashion—she has not only created a culture of print loving fans, she has created a world where family is the center of her designs.  What better Tastemaker for BURU can there be?  Her handsome husband and darling son accompany her in her fashion journey paving the way for all of us to bring our family into our businesses.  In the age of modern motherhood, I can't think of anything better.  I mean, shouldn't every mama take her NYFW bow with a cute kiddo in her arms!
Welcome to our Tastemaker Tribe, Mara!  We are thrilled to have you!
What I love most is feeling a love unlike anything else.

 

It's made me more selfless, patient, and forgiving. It's also forced me to use my time more wisely. And, if we're being completely honest, I'm also a little bit more tired. 

 

When I was pregnant, I wore a lot of my own pieces that were form fitting and had stretch. I felt more confident showing off my curves than I do my non-pregnant body. I was celebrating this new, temporary figure that was probably the most feminine my body will ever look in my lifetime. Today, I'm all about looser pieces, layering, and comfort. I'm much more of a tomboy now.

 

 

Fringe tufted stripe elastic waist pant

Travel pack laundry kit on-the-go

 

I remember having a connection to clothing and expressing myself through that medium as early as 8 years old - designing clothes was very important to me. I created clothing for my dolls and I made a skirt with about 26 buttons sewn onto it for my mother's birthday; she wore it for the entire night of her party.

 

The summer after my graduation from Parsons in 1999, I started Circle by Mara Hoffman, a one-of-a-kind line consisting of hand-made pieces. The fabrics were all hand-dyed batik and I did everything myself from start to finish. Some of my favorite memories are from when I was first getting started.  I had to be industrious and make things out of nothing - I was forced to be more creative. That youthful tenacity and fearlessness is what ultimately gave me the drive to build my business.

 

Overtime, Circle by Mara Hoffman evolved into Mara Hoffman and grew into the full lifestyle brand that it is today, encompassing Women's Ready-to-Wear, Swimwear, Kids, Bridal, and now Activewear, which launched this June, 2015.

 

The collection inspiration is built around a narrative - either from my travels around the world, a person, and/or theme that moves me. From there, my design team and I review fabrications, design prints, and build mood boards.

 

1970's Cher, Grace Jones, and Bianca Jagger for their strength, beauty, voice, and individuality.

  

I live in Williamsburg, Brooklyn with my husband, 4-year-old son, and dog named Gypsy. Typically, we'll visit the neighborhood park to play, and as for eating, we stay at home mostly because my husband is an awesome cook.  On the weekends, we try to escape from the city as much as possible to unwind and head to our house upstate.

 

I've had to learn how to end my day at an appropriate time and say to my team, "I'll see you guys tomorrow. Goodnight." Spending precious time with my son before he goes to bed is key.  My tip to everyone would be to try to shut off from work at night. Put your phone away and spend some time with your family, friends, a book, a workout class, and/or your favorite TV show - whatever it may be. Focus your mind on something else and enjoy the time. It's important.

 

Unrelenting love for your friends and family and care and thoughtfulness for others.

 

mother: blessed
wife: best friend
designer: creator
business owner: grateful
friend: loyal

 

your favorite... 

Bedtime Story: The Circus Ship by Chris Van Dusen. We've read it so many times that my son basically has it memorized from start to finish.

Lullaby: Hush Little Baby

Vacation Spot: Beach

Restaurant: Khao Sarn on my street corner

Children's Brands: Mara Hoffman

 

A quote my mother shared with me years ago that has always resonated:

"Old age is like climbing a mountain. You climb from ledge to ledge. The higher you get, the more tired and breathless you become, but your views become more extensive." – Ingmar Bergman