Q&A with Babiators Cofounder, Molly Fienning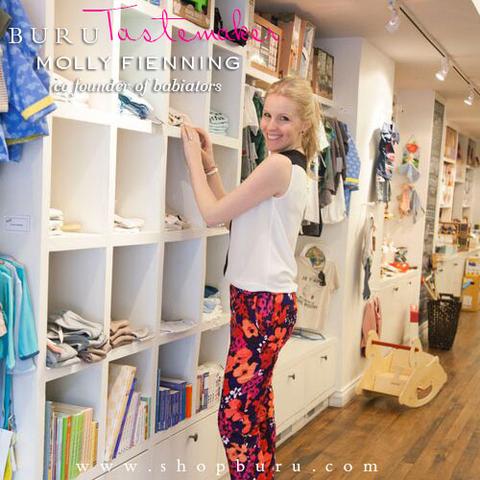 Molly Fienning is the Co-founder of Babiators – stylin' aviator shades for babies and kids – and a total entrepreneur at heart.  Inspired by her Marine Corps aviator husband, Molly launched Babiators in 2011 with her husband Ted and good college friends, Carolyn and Matthew Guard.  Before living the Babiators life, she worked in technology, with roles at IBM and Harvard's Berkman Center for Internet & Society, and received her BA in Engineering & Computer Science from Harvard College.  Molly, Ted and their son Sawyer live in Charleston SC and are excitedly expecting a new family addition next month.
I love how completely full my heart feels when I'm around my son. And how his face lights up and he bolts towards me when he sees me from across the room.
My personal priorities are completely clear. Family always comes first, then the rest of my life is a juggling act between Babiators, catching up with girlfriends and me time. With all of these buckets, life is now much more about quality than quantity.
While I was nervous to breastfeed beforehand, I found nursing one of my absolute favorite parts of that first year with Sawyer. It was our unique bonding time. I usually layered a simple white or black nursing tank under whatever I wanted to wear that day and wore only the top to feed.
Since becoming a mother, I've found that life's WAY too short not to have fun with fashion and feel happy in your clothes. My #momstyle is probably a little edgier than before (I'm currently obsessed with studs, leather and fringe), yet still feminine and figure-flattering. I also dress more to please myself than others, which is KEY.
The stencil sweatshirt - pink tint 
 Aviators/Babiators sunglass case! 
  Shop all of Molly's BURU Picks >
My husband, son and I love to wake up and have breakfast as a family. After Ted takes Sawyer to school for the morning, I sit down with a large cup of coffee and work work work. My personal productivity is highest in the mornings, so I reserve that time for focusing on and accomplishing major tasks. Then, I pick Sawyer up from school, which I like to do myself, before his sitter arrives for the afternoon to help me out. I tend to schedule my meetings and conference calls for afternoons, when I'm a little less productive (our Babiators team is based in Atlanta, so I'm on the phone a lot!).
I found balance when I actually stopped trying to achieve it. Sounds like fortune cookie wisdom, but it's totally true. My Babiators "to do" lists are sometimes not completed by the end of a workday – and I am now ok with that. What matters is that I get quality time with my husband and son every day (hopefully time with a good girlfriend too) and that I truly love my work and company.
We live in Charleston, a heavenly combination of cool, energetic city for me and South Carolina for my local boy, Ted. As a family, we love Saturday mornings at the Marion Square famers market and Sunday brunch at Park Café. We visit Sullivan's Island beach in the summer, explore local farms and plantations in the fall, and keep warm at the Alley's bowling lanes or Children's Museum of the Lowcountry in winter.
mother: love
wife: smitten
business owner: passionate
friend: giggles
Unconditionally loving, kind and present.
While pregnant...
Cravings: Fried egg & cheese sandwiches, chocolate covered pretzels and (strangely) sautéed Brussel sprouts.
            What helped you sleep: Lots of pillows everywhere. I also have a Tibetan Singing Bowls meditation on my iPhone to help me drift off when I can't fall asleep.
            Vacation Spot/Babymoon: Ted and I spent three days in Newport RI this summer. We holed up at one of the beach cottages at Castle Hill Inn – heaven!
            Push Present Wish: "The baby IS the present!" says my husband…A girl can still dream, though.
            Children's Brands:  Besides Babiators? ;) Kickee Pants are my favorite footie pajamas for Sawyer (super soft and stretchy, made out of bamboo!)
Travel to all the crazy (far; semi-dangerous) places you wouldn't want to take a child before he or she is in the picture. Tip from my dad – he was right!
You can't live a positive life with a negative mind.