Q&A with Michelle Kohanzo of Land of Nod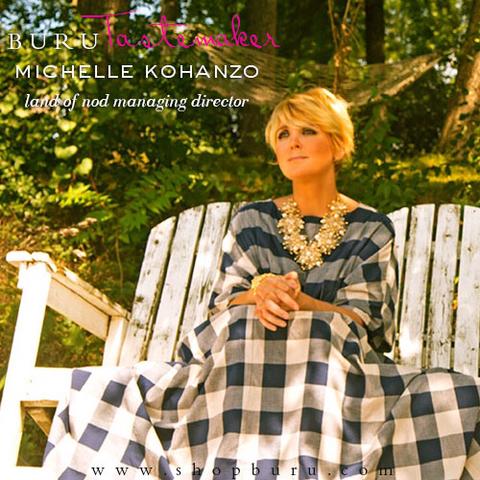 Michelle Kohanzo is a mom of 4: Emily 17, Connor 14, Henry 10, and Everett 8.  She's a wife, a sister, a friend to many - and oh yeah...she runs The Land of Nod. How does she do it all?  Read below to get the scoop!
I love seeing my kids grow-up and really become interesting individuals. They're each so unique and fascinating and I just love to sit and chat with them. I'm amazed that I'm their mother, its kind of awe-inspiring. I also love seeing them together, my siblings are so important to me and I see them forming really close relationships, which makes my heart full.
Motherhood has softened me. It's made me more patient and more present.
Breastfeeding my kids was really important to me. I breast-fed each of them for about a year and a half. The hardest wardrobe challenge for me was dresses. It's virtually impossible to nurse elegantly in a dress. I wore a lot of skirts and tops, or dresses with buttons. I feel like the options are so much better today than they were when I was in the thick of it.
At least I wasn't shy, that made it easier.
I don't think motherhood has changed my style, but I would say as I've gotten older I'm more confident which has allowed me to really get pretty outrageous in my wardrobe choices. I would say my #momstyle is loud, playful and eccentric. I have also recently sworn off waistbands altogether – think tent!
 aaron gingham skirt with sequin pockets
chatham skirt herringbone denim
wide leg sailor pant with suspenders
I was the 10th employee at Nod. When I started it was a bit like the wild west. You never knew what hat you'd be wearing on a given day. It was an amazing experience, I got to learn everything about retail and I got to make a lot of mistakes.
Here's my list of roles:
Customer Service Representative
Customer Service Manager
Operations Manager (lots of departments)
Ecommerce Manager
Opener of stores (not official)
Marketing and IT Director
General Merchandise Manager
Managing Director (today)
It's amazing that it's been 16 years. It feels like no time has passed, but so much has changed!
I spend most of my day meeting with my team, either one on one or in larger groups. My calendar is usually booked solid from 9 to 5. If I'm lucky I have a meeting to review new product in development, that's my favorite part.
I try really hard to go home at 5 and make dinner every night and be with my family. This helps a lot, it's important to me. I travel a ton and sometimes I get off balance, I am hyper aware of myself, I often get over-committed, saying yes to every meeting and trip and I start to feel out of whack – then I will pull back and say yes a little less often, give myself some space to breathe.
That helps, but it's a constant juggle.
I live in Barrington, which is a suburb outside of Chicago. We live in a sweet little Sears Catalog bungalow and have been there for 15 years. It's a wonderful, small community and has been a great place to raise our kids. We love to take mini-vacations to Chicago. We'll go down and spend the weekend, like tourists. We love to go to the Shedd Aquarium – we've done the beluga and penguin encounters there. To eat, we love Italian food – Rosebud on Taylor is just amazing and perfect for families. I also like to take the kids to Little Goat in the West Loop – they have the yummiest food and it's such a low-key setting.   My husband and I often escape for an overnight at Soho House Chicago, that's a romantic rendezvous spot.
mother: nurturing
wife: adoring
executive: unconventional
friend: generous
I have this image in mind of me encircling all 4 of my kids in my arms – enveloping them and protecting them. Motherly is the safest place that's always there whenever and for whatever you need.  
Bedtime Story: Dinosaur Encyclopedia (boys!)
            Lullaby: You are my Sunshine
            Vacation Spot: Tybee Island
            Restaurant: Loveless Café (Nashville)
            Children's Brand: The Land of Nod (of course)
That moms are human and that's okay – love your kids unconditionally and everything else will work it self out.  
"Actually, the best gift you could have given her was a lifetime of adventure…" Lewis Carroll, Alice in Wonderland