Q&A with Jen Roberts of the LB Brand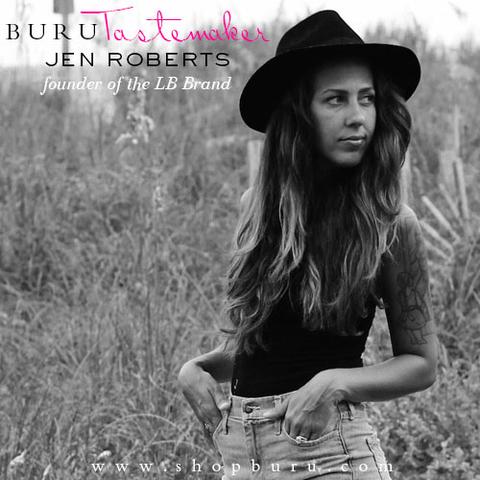 Jen Roberts, founder of lifestyle brand Little Boogaweezin (aka The LB Brand) is exactly the king of stylish freethinker for which The LB Brand designs.  The mind behind the infamous "Modern Motherhood" sunglasses seen on the faces of mamas across the world, Jen also curates The LB Blog which connects modern moms through style, fashion, beauty, and the journey of motherhood.

Discover more about Jen's journey into motherhood below & shop her curated collection of BURU
I love the miracle of the whole thing! The relationship we share is a total gift. To look at my son everyday and remember that my body grew him and then gave birth to him blows my mind. Nothing beats the bond we share. Motherhood is not only a chance to help mold and develop another human being, but it's a chance to also do the same for yourself. As I mother my son, I realize the things about myself that need improvement for his benefit as well as the things that are helping him soar!
Being my son's mother gave me an anchor inside myself from the moment I found out I was pregnant. It has forever changed me. I say, thank you, from my heart every time I see how joyful and full of love his spirit is.
I breastfed my son, Dylan, for 17 months. Within 5 minutes of holding him for the first time I had him on my breast. It was actually so natural between the two of us. It's a bond that really helped me thrive in those earlier days of motherhood and I am so grateful that we shared that experience. I never necessarily "dressed for breastfeeding". My signature comfortable looks around the house usually involved tanks and tops with a V neckline so I didn't have to be too aware about my style choices. When I was out of the house or was dressing for more social functions I wore what I wanted because for me personally, breastfeeding in public was never uncomfortable. If some of my stomach was showing or say the side of my breast because of my top choice, it didn't bother me. When it came to breastfeeding, feeding my son was top priority, not the social do's and don'ts around me.
My #momstyle is actually very similar to my pre baby style, minus the heels. I personally can't wear high heels and be responsible for wrangling a preschooler at the same time! Any sort of ankle bootie or boot with a thicker heel that's not too high is fine for me, but anything taller then that and it's got to be date night which means, no bebe!
As you can tell within my BURU picks I leaned towards a more comfortable vibe but still had a few pieces that could add a little edge or be dressed up if need be. I have always been a woman who has to feel comfortable with whatever I'm rocking. When it comes to the days where Dylan is with me, I need to be able to move freely and stylishly and not be constantly adjusting my clothes.
LB initially started as a creative outlet for myself as well as an outlet where I could have a sense of self outside of motherhood. Every mother knows there is a period of time after becoming a mother where you are redefining your identity. What started as a small kids line has evolved into the very first lifestyle brand for the modern mama and her child. This evolution happened as I saw a huge hole in the market from other lifestyle brands offered in stores today. There was nothing that spoke to me and apparently I wasn't the only mother out there who felt this way. Today, LB is a lifestyle brand that not only connects to mothers all over the world, but it connects mothers to one another all over the world. The LB brand is defining modern motherhood and childhood as we know it and we're not stopping there. This fall really exciting things are happening with the brand so stay tuned!
A typical day for me is usually being woken up by my little guy! I soak up as much sleep as possible since every parent knows it is sacred and every minute counts! My son does preschool in the mornings and has a babysitter for the afternoons while I work from home. I've recently forced myself to start hot yoga, which I'll mention, I've kind of fallen in love with. Ninety minutes of the best work out I've ever had. It's proving to help keep me sane in the midst of so much busyness!
I think I try and balance the best I know how but it never looks like what I'm trying for. I think when you are a mother plus an entrepreneur; you have to just accept that there will be some days you will be more of one then the other. Life is messy and rarely ever neat. The important thing is to always keep your priorities in front of you so when you are being pulled in 50 million directions you can remember what your doing it all for and cut out stuff that doesn't matter.
Mother- loving
Writer- honest
Business Owner- driven
Friend- real
your favorite...