Bath Time: From Drama to Dreamy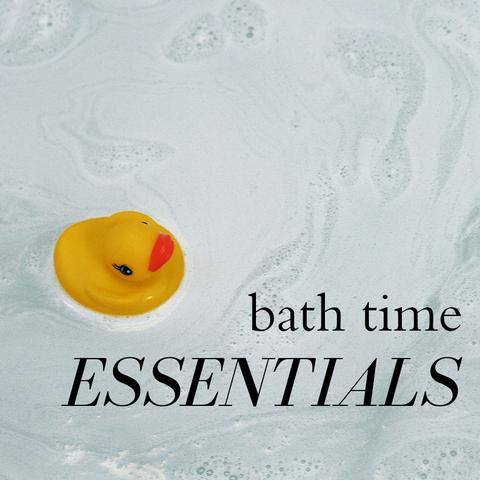 In a dream world, Olive Bee would adore bath time.  She would approach it with serenity and savor the bubbles, the bonding, and the beauty of it all.  In reality, it involves a screaming fit with 10 additional minutes of tears while we power through the hair washing portion. 
Clearly, this behavior was not sustainable.  So about a month ago, I started brainstorming on ways to make the bath more enjoyable...for ALL of us.  For me - red wine.  For Olive - "magic potions" and new bath products. 
For mamas whose little ones are not obsessed with Sofia the First and Cederic the Sorcerer, you may need a method other than "magic potions" (aka - a variety of colored plastic, bath time safe containers and stirring sticks).  In my case, the "magic potions" have literally worked like magic.   A moment once filled with tears and screaming,  has now evolved to hair washing heaven full of giggles and abracadabras.
Even better, Olive is loving her new Mustela bath oils, soaps, and shampoos.  She thinks they are potions too!
We have struggled with eczema since Olive was a tiny baby.  The dryness of Utah hasn't helped the problem.  But there are only so many avocados you can feed to a 2.5 year old!  When I discovered Mustela's new bath oil, I was so excited to see that a key ingredient is Avocado Perseose.  It naturally reinforces the skin barrier and preserves skin cells.  It also has that perfect, clean baby smell that I can never get enough of!
Of course, I still keep a bottle of Mustela's No-Rinse on hand for days when talk of "magic potions" doesn't work like magic.  I don't rinse it, but I do soak a wash cloth with warm water first and then apply it that way.  I learned the hard way that my little princess does not like to be wiped down with anything cold.  Heaven forbid.  (Sarcasm hopefully noted.)
The goal is for bath time to end with smiles like the one above...for mommy and daddy too!
Thank you Sofia the First and Mustela for bringing giggles back into our tub.