From Loung'n to Lunch'n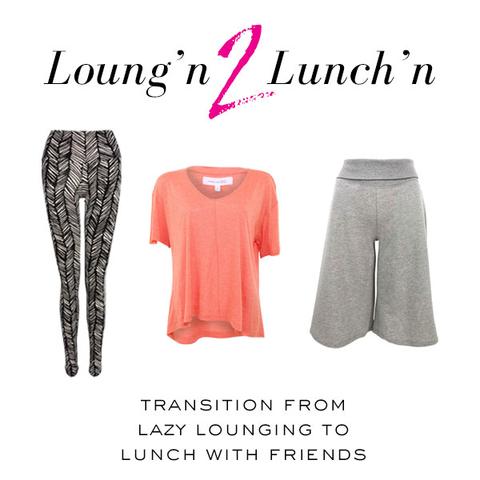 As mamas, we need to be "presentable" in a moments notice.  Sure we can hide behind big sunglasses and a trench coat over our jammies during school drop-off, but what happens an hour later (still jammie clad) when you get a call from the school and need to rush back for something.  OR what about all those instances where you just lose track of time and realize you are supposed to be at a fundraiser meeting in 5 minutes. 
For most of us, our loungewear collections consist of old ratty tees and styles that really should have been tossed to the curb ages ago.  Perhaps if we treated loungewear (the most worn styles in our wardrobes) like we treat other categories (aka date night, work day, etc.) then we would be far more prepared for instances like above. 
The truth is that "loungewear" has come a long way.  Many of these styles instantly transition from laundry duty to lunch with the girls in an instant.  By swapping out a few details, you will be out the door in no time!
Check out our Loung'n 2 Lunch'n tips below!
TODAY ONLY: Save $50 on all loungewear orders over $199 with code: LOUNGE50