12 Days of Quarantine: Day One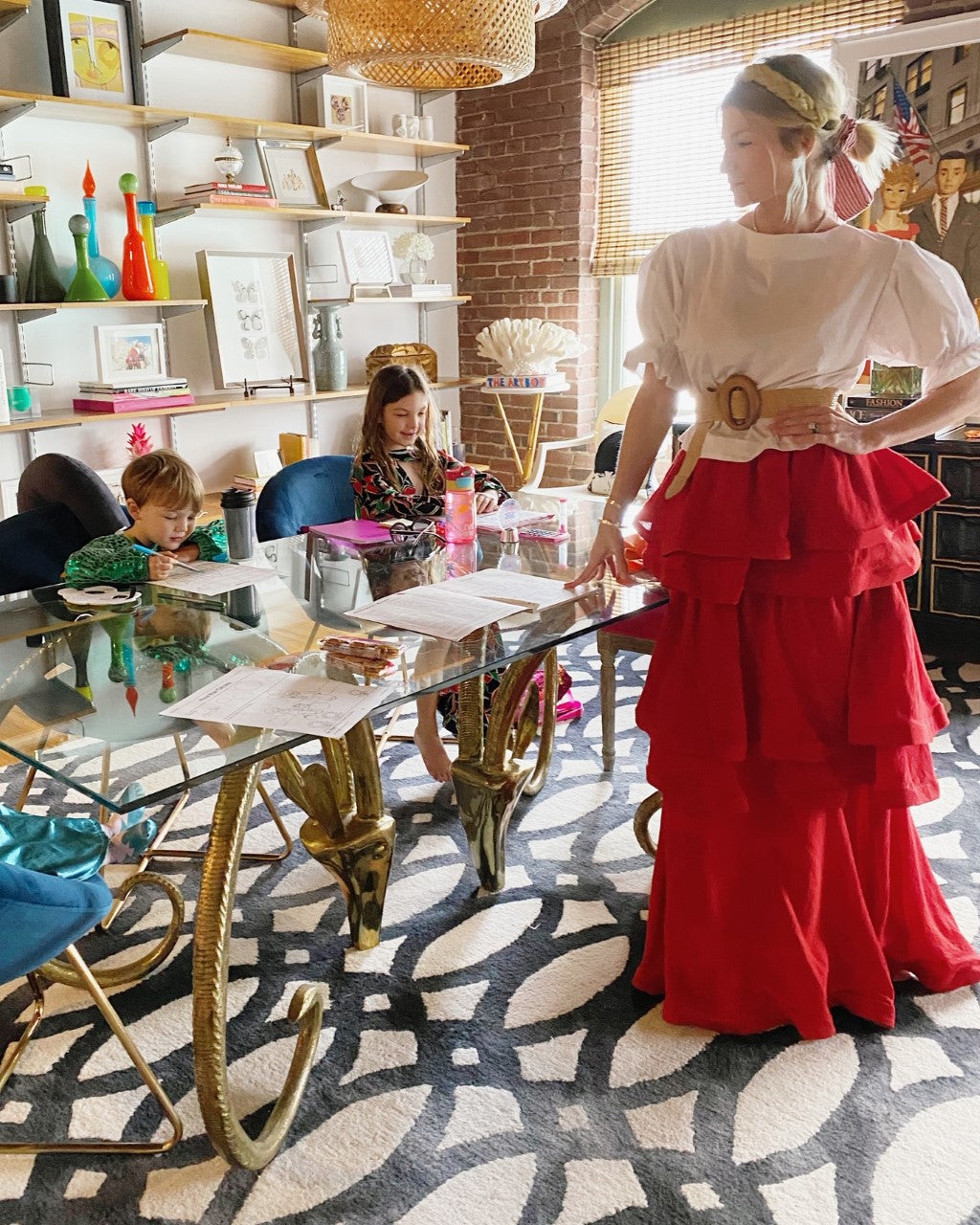 Nothing like a global pandemic and springtime quarantine to keep life interesting, am I right? If you're stuck inside the house for the foreseeable future, welcome to the club! To help you out, Mama, we've put together The 12 Days of Quarantine. For the next 12 days, we've got you covered––from what to do with the kiddos to what to wear, we're here for you! 
All looks featured in our 12 days of quarantine will be marked down up to 50% off regular price for 48 hours. Click any link or image to shop!
Welcome to day one! 
A Lesson for the Kids:
If your kid hates math, I don't blame them. But we all know math is important, and while you're stuck at home, you may as well turn it into a game they'll actually enjoy playing. 
What you'll need: 
Sidewalk chalk
A rubber duck (or something comparable) 
Scratch paper & pencils 
Dry erase board and markers (not necessary, but will make the point system easier) 
How to play: Draw out a hopscotch board with chalk on the driveway. Label each square with a math problem. Have your child (or children) stand a few feet back from the start of the board and toss the rubber duck. Whatever square it lands on, they solve the math problem! Get it right? Points! Once a winner is declared, let them choose a prize––anything from a piece of candy, a sticker, or even 15 extra minutes of screentime before bed. Incentive is everything! 
Happening TOMORROW (3/18/2020): If you and the kiddos love to dance, head over to Debbie Allen's Instagram tomorrow at 4:00 EST for a free dance class! 
Looks for Mom:
 While technically speaking, homeschooling can be done in anything, why not dress it up some? It's nice to at least pretend you've got somewhere to go, isn't it? Here are the looks we're loving for day one:
If anything is going to make math more bearable, it's a dramatic ball skirt. If it looks like you're going to be stuck inside for a while, may as well make the best of it, right? Who knows? You may even have time to slide in some ball dancing lessons! 
Paradise Puff Sleeve Top - White
A white top you can pop right in the washing machine when that sidewalk chalk gets a little out of hand? We've got you covered! 
Have you ever felt like you need eight hands? Well, adding a stretchy belt might be your newest "mom trick." Tuck extra pencils, some wipes, and a small bottle of Purell right into that belt. Mamas, I'm only half kidding. 
The quickest throw on and go shoes around! Important when chasing the kiddos around all day long. 
People keep telling us to stop touching our faces. Which is hard when your hair is flying all over the place while you run around the house, isn't it? Don't worry! Snag one of our headbands and, BAM! Problem solved! 
Canceled spring break plans? Freshly shaved legs with no beach in sight? We can't help get you seaside, but we can help in the wardrobe department: our linen walking shorts are everything you didn't know you needed for springtime quarantine. Trust us. 
Local florist is closed for the foreseeable future? Not to worry! You can now wear your bouquet around your neck.
Consider this your honorary teacher badge for the next several weeks! 
Peter Pan Collar Day Gown - Red Stripe

Deep cleaning and sticky hands are both no match for this coated cotton stunner. Wipe her down and throw it in the wash at the end of the day. Cheers! You survived and so did your dress! 
It's the end of the day. You've been bombarded with "why this" and "why that" for 12 hours. We feel you, Mama. Throw on these sunnies and tell the littles you're on a "staycation." Pour some wine, kick back, and get ready for day two!