Q&A with Ariane Goldman, founder of HATCH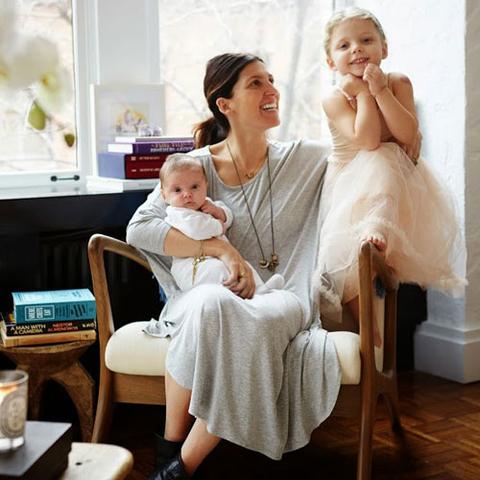 During her pregancy to sweet baby girl number 1, Charlie Grey, Ariane realized a huge void in the world of maternity fashion. She couldn't find anything that appealed to the way women really want to dress—so she created it! Every piece of the HATCH collection  offers timeless and beautiful style for before, during and after the bump.
We are so thrilled to welcome Ariane to our #BURUtastemaker Tribe and to have the gorgeous HATCH collection now available at BURU!
Read our exclusive Q&A with Ariane below plus shop her amazing #momstyle HERE!
I love looking at my children and thinking that they are created wholly from the love that Max and I share.
I can't even remember who I was before becoming a mom!
Delicious, delicious delicious. Charlie is 5 and Georgie is almost 18 months. They're both sweet and thoughtful and kind, and they love each other very much. I had a brother, so I never understood sisterhood…watching them is like learning for the first time how that bond evolves.
I did breast-feed. Fortunately HATCH has a lot of options to make it all feel a bit easier. I think the work-wear thing is the hardest piece of the wardrobe to figure out post-baby, so nursing-friendly tops and dresses are a must.
My #momstyle is more on the go – more one-stop solutions. Function, but lines that carry style first and foremost.
Heading into summer, I always look for that light sweater or jacket that's going to keep me wrapped on chilly nights, so the Ace & Jig scarves are looking very tempting, as are the Lem Lem beach coverups, which I've always been a sucker for... some of the HATCH pieces – the Audrey Dress, the Twilight Jumpsuit – just provide those perfect vacation essentials that feel effortless and look great no matter how you style them.
Shop Ariane's Tastemaker Sale >
I started envisioning HATCH when I was pregnant with Charlie and was up scouring the internet for any maternity clothes that didn't feel totally awful. They just weren't there. So, I HATCHed. The company was founded a year later.
Typically busy. Meetings all day, and calls and appointments. No time to actually work!
Step 1: chill the glass with crushed ice.
Step 2: Pour in 1 part vermouth, 2 parts vodka. Add garnish.
Step 3: Drink swiftly.
Step 4: Repeat.
While NYC is literally our stomping ground, to have true family time, we head to our home in East Hampton – all year round. There's a duck pond we love and we just enjoy as much time as we can all together.
Back in the city, I love Café Maman and Navy for coffee…there's a bunch of haunts between soho and the west village that feel fairly crucial to our day-to-day.
Mother: inspirational (I hope)
Wife: loving
Designer: excited
Business owner: trying
Friend: improving
Bedtime Story: Oliver Jeffers
Lullaby: You are my sunshine
Vacation spot: Miami
Children's Brands: Makie
Food, music, crayons, food, time with us.
I don't think there's anything I could have known before…that's the journey, right?
Stay High. Oh, and always have a sense of humor.
I'm so excited to spend time in these cities and meet these amazing women that love HATCH. The great part about owning an online business is that you can reach so many people, but the hard part is actually connecting with them offline, so this is really exciting. And I've never been to Nashville or Charleston, so there's that!