Q&A with designer, Rebecca Minkoff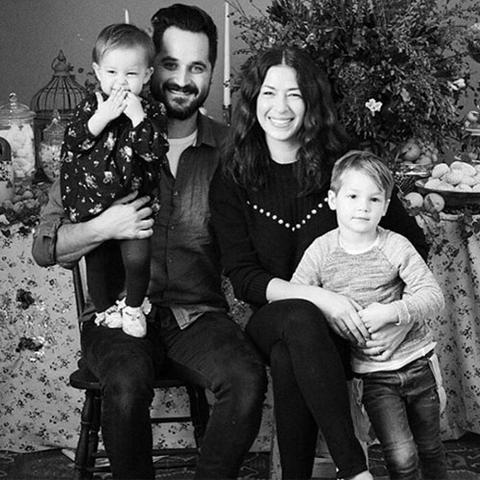 Though this mama doesn't really need an introduction, Rebecca Minkoff certainly deserves all the praise and admiration that 10 amazing years in the world of fashion warrants. She's global. She's a trail blazer. She's an industry icon. And if she wasn't so darn nice and lovely (inside and out) she just might be one of the most intimidating women I've ever met.
Read below as Rebecca shares insight into her world and don't forget to shop all Rebecca Minkoff styles available at BURU—25% off with code: RM25 (this week only!)
Being a mom is my favorite thing in the world. Watching Luca and Bowie grow and develop their own personalities is incredible—it's such a joy!
It's definitely taught me not to sweat the small stuff.
I still dress very similarly to the way I dressed in high school! I've always had a relaxed, tom-boy style consisting of relaxed tees and ripped jeans that were oversized and slouchy"
Becoming a mom hasn't necessarily changed the way I design, but it's taught me more about the woman with kids who is wearing my clothes. I think about who she is and what she needs every collection.

I was Inspired by my own team who voiced their desire for a "just worked out" weekend look.  I really started noticing that our customer wants to have an even more casual approach to dressing and they missed that feeling of relaxed, but still a chic look. Working out is a part of our daily lives now; it's a part of our girls' daily routine. I wanted to make sure that our customer feels great going to and from Pilates, and then to brunch! We live really full and busy lives and we need clothing to reflect that.
The line will be updated seasonally and will also include 20 bag styles and a selection of colorful, low-top sneakers. Our customers are very vocal and we really value that. We'll design according to her needs with new silhouettes, exciting prints and high-performance fabrics. As a lifestyle brand, our goal is to have our girl want to wear us for all of her events and experiences, and this is just another line that can be incorporated into her current wardrobe.
Right now our retail store expansion is a huge focus that I'm excited about both here in the U.S. and internationally. We also have some very exciting partnerships and initiatives happening over the next year or so as well, but I can't give too much away just yet!
As a mother, you have this ability to become an insane multitasker; it's all about taking one thing at a time and attacking what's in front of you.
We live in Dumbo, Brooklyn. Brooklyn Bridge Park is one of our favorite family spots. Luckily it's right below our apartment so it feels like the kids have their very own backyard.
                Mother: Loving
                Wife: In love
                Business Owner: Dedicated
              Designer: Unique
                Friend: Loyal
Bedtime Story: Goodnight Moon
Lullaby: Any David Bowie song if it's for Luca
Vacation Spot: South Florida
Restaurant: Vinegar Hill
Children's Brand: The Honest Company
Nothing can prepare you!
Unconditional love

        Stay true to yourself and follow your passion. Even if your dream seems unattainable, you can achieve it if you stay focused, driven and diligent.